Chipset ตัวใหม่ SiRF GSC3F


รับดาวเทียม 20 channel
ความไวสูงมาก สามารถรับสัญญาณ
ได้แม้อยู่ในอาคาร ใช้แทน GM-82 ได้เลย

บริษัทเนฟคอม ได้รับจาก holux มาทดลองใช้เป็นเจ้าแรกในประเทศไทย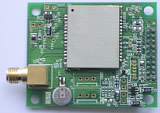 GR-82 คือ Engine board ที่ใช้ชิพตัวใหม่ SiRF GSC3F chip set ของ SiRF ซึ่งได้ชื่อว่ามีความไวสูงมาก และค่ายยักใหญอย่างเช่น Garmin ก็ยังต้องนำมาใช้ ซึ่งทาง Holux เองได้ใช้ chip set ของ SiRF ในการสร้าง
ผลิตภัณฑ์ GPSสำหรับท่านที่เคยใช้ผลิตภัณฑ์ของ Holux จะทราบดีว่า Holux มีทีม R&D ที่พัฒนาอย่างไม่หยุดยั้ง
ทุกๆปีจะมีสินค้าตัวใหม่ออกมาให้นักประดิษฐ์ในบ้านเราได้ต่อยอดผลิตภัณฑ์อีกมามาย


GR-82 เป็นบอร์ดภาครับดาวเทียม GPS ทำหน้าที่บอกพิดกัดบนพื้นโลก โดยให้เอ๊าท์พุทเป็น TTL RS232
สัญญาณที่อกมาจะเป็น ASCII ซึ่งสามารถนำไปต่อเข้ากับ ไมโครคอนโทรลเลอร์ได้โดยตรง หรือ ต่อตัวขับสัญญาณ
Max232 จะทำให้ต่อสัญญาณเข้ากับคอมพิวเตอร์ PC ได้ เหมาะสำหรับนักศึกษาที่จะนำไปทำโครงงาน หรือศึกษา
การทำงานของระบบ GPS หรือบุคคลทั่วไปสามารถนำไปใช้เพื่อเป็นเครื่องบอกพิกัดหรือเป็นระบบติดตาม
ยานพาหนะได้โดยไม่เสืยค่าใช้จ่ายเกี่ยวกับดาวเทียมใดๆทั้งสิ้น ลองดู รายละเอียดข้างล่าง

HOLUX GR-82 is a high performance, low power consumption, small size,very easy integrated
GPS engine board designed for a broad spectrum of OEMsystem applications. This product is based
on the proven technology found in other HOLUX 20-channel GPS receivers and SiRF SGSC3 chipset solution.
The GPS engine board will track up to 20 satellites at a time while providing fast time-to-first-fix
and one-second navigation updates. Its far- reaching capability meets the sensitivity requirements of
car navigation as well as other location-based applications. Therefore, HOLUX GR-82 engine board
is verysuitable for the customers who devote themselves to AVL system integration and location-based service.
The GR-82 design utilizes the latest surface mount technology (BGA) andhigh level circuit
integration to achieve superior performance while minimizing space and power requirements. This hardware
capability combined with software intelligence makes the board easy to be integrated and used in all kinds of
navigation applications or products. The application system may communicate with the engine board set via
RS-232 compatible bi-directional communication channels.

Receiver:
Tracking : L1,C/A code
Channel : 20
Max. Update rate: 1 HZ
Time Mark: Output 1 pulse/sec, aligned with GPS time+/-0.1 uSec
Max. altitude/velocity : <60,000 ft / < 1,000 knots.
Protocol Support : NMEA V2.2, 4800, 8, N, 1 or SiRF Binary
Datum: WGS-84, Support different datum by request.
Processing Core
Interface: RS-232 CMOS 3V ,5 GPIO
Dimension: 40(W) x 50 (L) x 13.5 (H) (mm) (The height of pin is in cluded)
Weight: 9 g
Operating Temperature : -10 C to +60C
Storage Temperature: -20C to +70C
Operating Humidity: 5% to 95%, No Condensing
Power : input power 3.3V - 5.5VDC
NMEA output protocol:
Baud rate: 4800 bps
Data bit: 8
Parity: N
Stop bit: 1
Output format: GGA, GSA, GSV, RMC.(VTG , GLL, RMS option)
Output terminal and definition
20-pin header (2.0 mm pitch)

Accuracy (Open Sky)
1).Position :10 meters, 2D RMS.
2).7 meters 2D RMS, WAAS corrected.
3).1-5 meters, DGPS corrected.
4).Altitude :< 35 m vertical in term of 95%.
5).Velocity :0.1 meters/second.
6).Time 1 microsecond synchronized to GPS time.
Acquisition Rate (Open sky, stationary requirements)
Reacquisition: 0.1 sec average
Hot start: 1 sec average
Warm start: 38 sec average
Cold start: 42 sec average
Interface
1).Antenna connector type: MCX, MMCX or SMA, 2.8 VDC output. (optional output VCC_IN)
2).Minimum signal tracked: -159 dBm. (based on SiRF GSC3f spec.)
3).Active antenna
4).Two full duplex serial communication, RS232 or CMOS 3V interface, with user selectable baud rate
(4800-Default, 9600, 19200, 38400).
5).Simple and straightforward connection to PC.
6).NMEA 0183 Version 2.2 ASCII output (GGA, GSA, GSV, RMC (VTG , GLL and ZDA for optional)).
7).DGPS protocol RTCM SC-104 message types 1, 2 and 9 or WAAS (in USA area) or EGNOS (in European area)
8).SiRF binary-position, velocity, altitude, status output.

Applications:
Car Navigation, Marine Navigation
Fleet Managemnt
AVL and Location-Based Services
Auto Pilot, Personal Navigation or touring devices
Tracking devices/systems
Mapping devices application.
ปัจจุบันทางบริษัทได้สร้างสำหรับทดลองและพัฒนาจีพีเอส โดยสามารถต่อกับเครื่องคอมพิวเตอร์ pc ทาง USB พอร์ต
มีชื่อเรียกว่า NavU-G